about
There aren't many things that I believe more strongly than the fact that animals are family - Period. The love of a pet is an incredible thing to experience, while the loss of a pet can, at times, be paralleled to losing a loved one.
Whether you are looking to present someone you love (or yourself) with a keepsake, or you just want to stare at your fur-baby up on your wall all day, I can help you create something special.
Read below for details.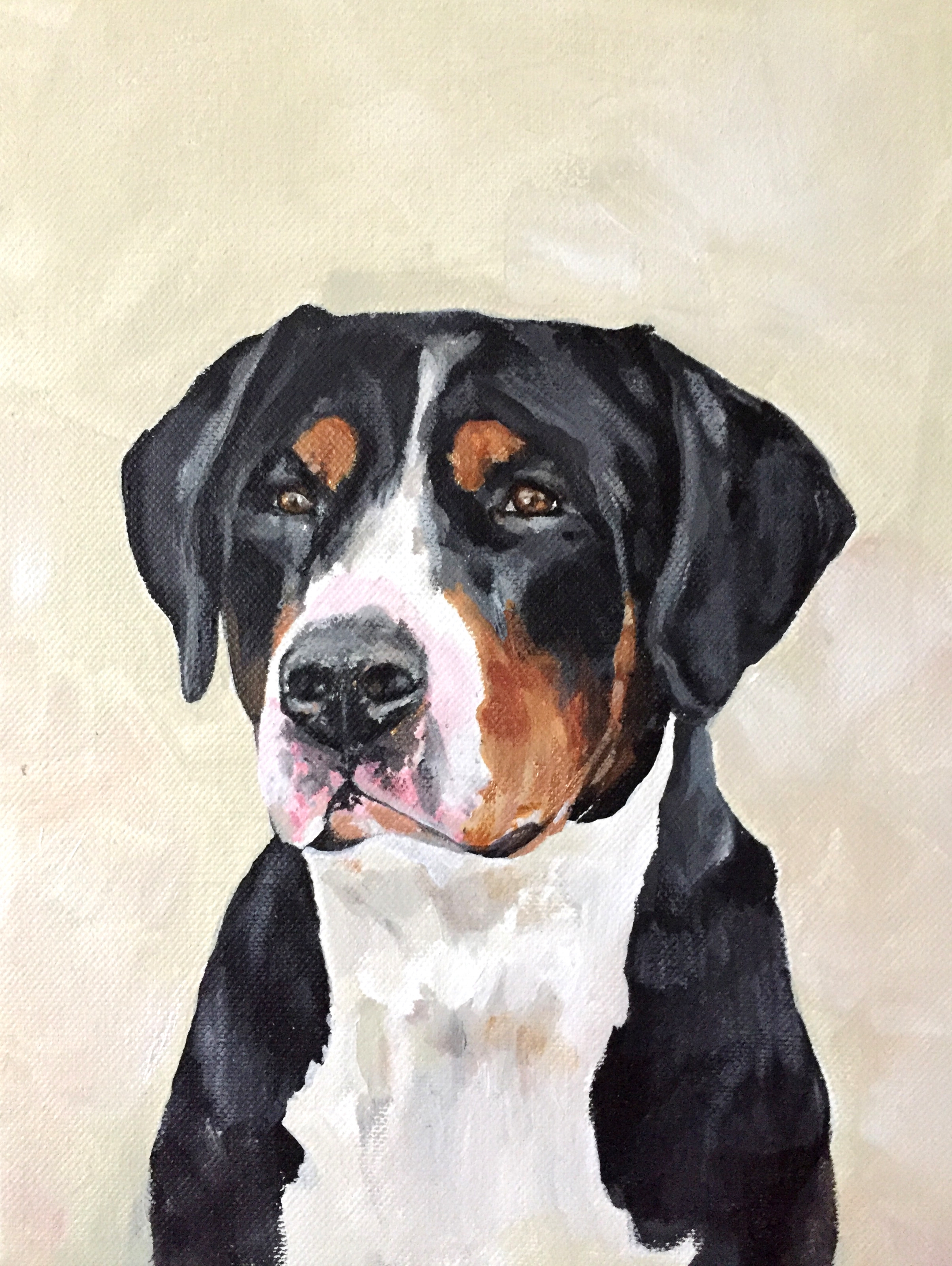 how it works
Select 2 to 3 photos.*
Make sure that they are clear and show detail. The additional photos allow me to gain insight into special features and quirks to capture your pet's personality. *Accepted photos include head-only, head and shoulders, or head and front legs. For more information on full body, adding an additional pet, or a complex background, view my FAQ.
Choose your medium.
Currently, I'm offering the option between watercolor or acrylic.
Choose your surface.
Watercolor paintings will be completed on a 140lb., cold pressed watercolor paper. For an acrylic piece, you have the option between canvas or raw birch panel. (Both of the acrylic options are ready to hang, you will want to purchase a frame to protect your watercolor piece).
Send me an email ▹ sharon@sharonteuscher.com
- Attach your 2-3 photos.
- Ask me any questions you may have about the process.
*50% of payment is required prior to the start of your pet portrait.
pricing*
8x10 - $200
9x12 - $250
11x14 - $300
*Shipping not included in price
*Free pickup/delivery available for Columbus, Ohio locals
Pricing includes 1x pet (following image specifications listed under bullet #1 above), on a plain/simple background. Painting will be completed in a realistic style.
How long until I receive my portrait?
Once you've made your payment in full, and you receive written approval that I have everything I need to begin (via email), you should receive your portrait(s) by mail within 4-6 weeks.

This time could vary dependent upon workload and how many projects I have in the queue. If, for any reason, you're painting is set to take longer, that will be communicated openly!
 
Have you commissioned a painting from me?
First and foremost, THANK YOU SO MUCH!
I hope that you are 100% satisfied.
As an independent artist, I am so thankful that you have trusted me to create something so special for you.
If you are satisfied with your purchase, and you would like to provide a testimonial (and possibly a photo of the painting in its new home), I would be honored.
Simply email me at sharon@sharonteuscher.com.